Ring of Honor Wrestling
Ring of Honor Wrestling (ROH) is a professional wrestling series. The first installation of the program started on March 21, 2009. Most of the episodes have taken place at "The Arena" in Philadelphia, Pennsylvania. Every show opens with commentators Kevin Kelly and Steve Corino breaking down the upcoming matches. A typical show will include three to four matches, followed by a main event that always goes about 10 minutes. Much like wrestling shows in the 1970s and 1980s, the first three or four matches pit wrestlers that one knows what the outcome will be.
Ring of Honor Wrestling is a lot like World Wrestling Entertainment (WWE), whereby storylines are created in advance, drawn out for weeks, and then finally culminate with a one wrestler ultimately coming out victorious. The actual wrestling takes a back seat to the staged interviews. One wrestler is always cast as the "villain," with the other receiving the "hero" tag. A typical interview begins with Kelly and Corino talking with one of the two participants in an upcoming match. Ultimately the wrestler notes how easily they will defeat their opponent.
Thursday 8:00 PM et/pt on Syndicated

6 Seasons,

104

Episodes

September 24, 2011

/

10

Cast:

Bobby Cruise, Todd Sinclair, Paul Turner, Kevin Kelly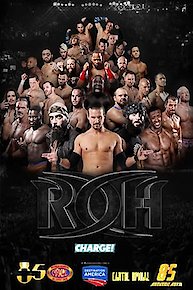 Ring of Honor Wrestling Full Episode Guide
The tour of the Lone Star State concludes on Jan. 26 in San Antonio.

On Jan. 25, ROH returns to Houston for the first time in nine years.

In January, ROH heads to the great state of Texas for the Road To G1 Supercard Tour, beginning Jan. 24 in Dallas.
Episode

2

-

Dalton Castle & the Boys vs. The King...

Episode

1

-

Flip Wilson vs. The Villain, and More
If You Like Ring of Honor Wrestling, Then Try...